IN GENOA, THE BEST FRENCH OYSTERS!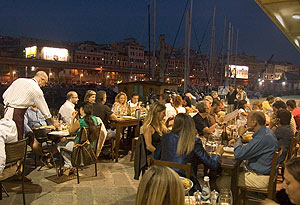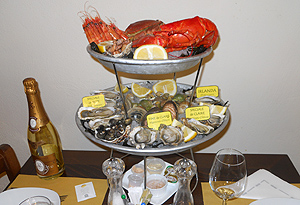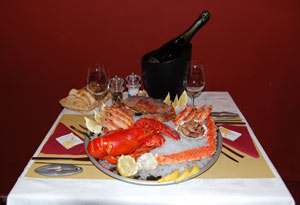 Indarsena
in Genoa is one of the very few real Oyster Bars in Italy. Exactly like in the parisian restaurants, at least 7 or 8 different kinds of oysters are to be enjoyed every week (Fine de Claire, Spéciale de Claire and also the Pousse en Claire Marennes Oléron, Bouzigues Spéciale de Mèze, the famous Tsarskaya – Pearl of the Tsars, the genuine Cancale, Georget-Ireland, Muirgen – the Irish oyster allowed to mature in Brittany, the Belon du Belon, Marie Morgaine, the nowhere to be found Gillardeau, Saint Vaast, Spéciale Utah Beach and the White Pearl of Normandy, the Gauloise allowed to mature in the Belon river, Tarbouriech – the pink oyster from Etang de Thau...).
Besides oysters, you find the best Seafood at Indarsena's (Warty Venus, Saltwater Clams, Dog Cockles, Whelks, Common Periwinkles, Urchins, the odd Sea Figs, the nowhere to be found Goose Barnacle and the Abalones...) but also wonderful cooked Shellfishes (Brown Crab, Lobster, Madagascar Prawns, Shrimps, and the fabulous King Crab – legs and nippers of the Giant Crab from Alaska seas, to be enjoyed in the american way with melted butter...).
At Indarsena's, the two or three level Plateaux are prepared on a special counter in the center of the dining room. The spectacular nature of this preparation is sublimated by the écaillers' skillfulness who open oysters and seafood at sight; it allows customers to follow the elaboration of their own Plateau. The range of top fresh products coming from France goes from the "Aperitif", with a glass of wine and a dish of oysters or prawns or a fish carpaccio, to the Dinner with Plateaux for all tastes (… and all budgets). For the one who does not eat oysters, there are the Soupe de Poisson, the fresh or smoked fish Carpaccio, the cooked shellfishes, the Salmon Pearls, the French Cheeses and wonderful desserts from the best genoese cake shops. And the lazy ones can take home the Sea thanks to the take-away meals...

INDARSENA Oyster Bar - Vecchia Darsena di Genova - Calata A. Dinegro (Nearby Galata-Museo del Mare and the Submarine)
Hours 6PM - 12PM (closed on Tuesdays)
tel. + 39.3477139020